In the past, I introduce my own experience of eating Mos Burger's allergy friendly burger (pork). This time I tired ''Mos Burger's allergy friendly hotdog''. So let me explain to you how my experience was.
Soft and tasty buns are so delicious.
Just like the burger, the bread used is made of 100% rice flour from Yamagata Prefecture.
Rice flour bread is very different from ordinary bread made from wheat flour. It is very soft and chewy especially when they are out from the oven.
In addition to carbohydrates, rice flour contains various nutrients such as protein, fat, and vitamins. Also, rice flour is made of the same elements as rice, so it is more filling than wheat flour.
Both burger and hot dog are made from 100% rice flour at Mos burger. They are also recommended for people who are not allergic.
The Crisp and juicy pork sausage is delicious.
The hotdog is simply made of rice flour bread and pork sausage only.
Because it was made simply, I felt like the crispness of delicious sausage stands out even better.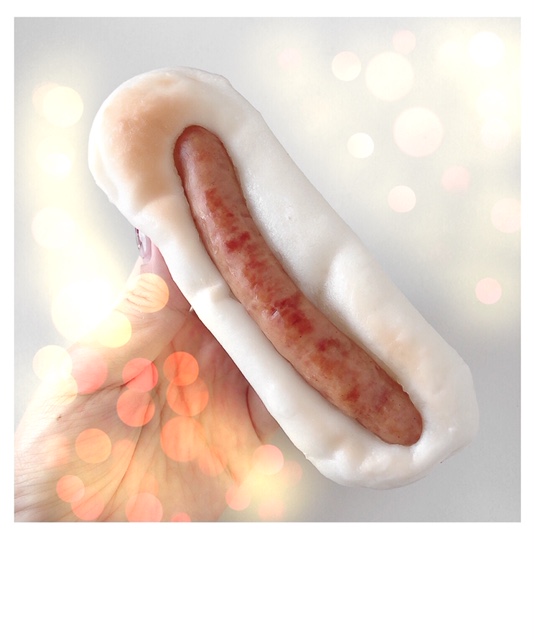 It might be difficult to do this at a shop or outside, but it is recommended to eat with a lettuce slice and onion.
Although I didn't post my picture on this article, it was even more delicious when I ate it with lettuce, sliced onion, and avocado.
When you eat at home, I recommend you to add your own allergen-free ingredients. Especially for children, they can enjoy customizing their own hot dog.
Among the specified 27 ingredients, only pork and apple are used in their allergy-friendly menu.
Taste is not the only good aspect with Mos Burger's allergy-friendly menu.
Among the specified 27 ingredients, they don't use anything except for pork and apple. That's one of their attractions.
When it comes to another restaurant or fast food place, finding a place like Mos burger is hard.
Although Mos burger makes these meals with limited ingredients, their products taste very delicious surprisingly!
The safest way of providing food is to pack each item individually.
Mos Burger's allergy-friendly meals are individually packaged rather than being wrapped in paper like ordinary goods.
Since it can prevent allergens from getting into the food at the store, I felt like the company is handling the allergy-friendly food very well.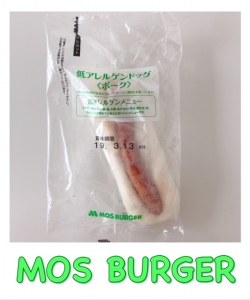 Also, the allergy-friendly burger comes with a bag. So after you have opened the package, you can put your burger in there and eat it just like any other normal burger.
There are only a limited number of restaurants that are handling allergy-friendly food. But I am pleased that the number is increasing little by little recently.
I sincerely hope everyone can eat the same thing regardless of whether you have an allergy or not.
I hope that will happen.
I myself have food allergies, so I would like to continue uploading useful information for someone who has the same problem by doing interviews and researches.