7major allergen free / Rabbit Inari Sushi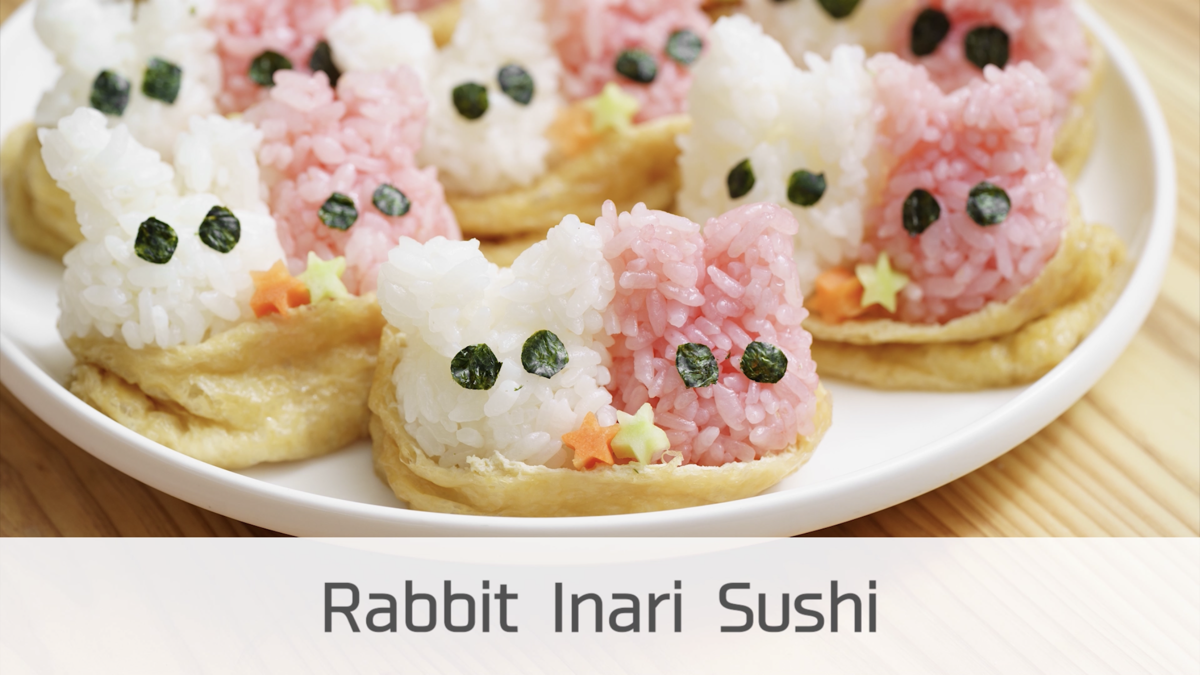 This recipe is provided by NODA MAMI / Food allergies cooking expert
Ʊ Thought Went Into Creating The Recipes Ʊ
I didn't like vinegar rice.But using white rice made me feel like there was something that was missing. So I end up seasoning the rice with salt.
Even allergy friendly food can be decorated in a cute way. Try to use natural colorant for various ingredients.
Ʊ Ingredients (For 8 Pieces) Ʊ
Sushi Fried Bean Curd (Yokoyama Food) … 4 Pieces
★ Wheat And Soy Free Four-Grain White Soup (Ninben) · · · 1 tbsp
★ Brown Sugar … 1tbsp
★Sweet Rice Wine For Cooking … 1 tsp
★Water … 50cc
Rice … 350 g
Natural Salt (Blue Sea) … 1 tsp
Juice From Water Boiled Beet Can (Liby) … A little
Cucumber ··· Appropriate Amount As Needed
Carrot ・ ・ ・ Appropriate Amount As Needed
Grilled Seaweed (Muso) … A Little
Ʊ How To Make Ʊ
1.Pour boiling water onto the sushi fried bean curd to remove some of the oil.Then cut it in half.
2.Put ★ in the pot and bring it to a boil. Then add sushi fried bean curd and bring down the heat. Simmer it over low heat until the soup evaporates and decrease. Occasionally turn it over and let the soup soak into the both sides of the fried bean curd.
3.Cut the carrot into 2 mm round slices and heat them in a 700 watt microwave for one minute.
After that, cut it into the shape you want using cookie cutters.Similarly, cut the cucumber into 2 mm round slices. And cut it into the shape you want using cookie cutters.
4.Add salt to the rice and mix them well. After dividing the rice in half, add beet juice to the half of rice and make it pink.
5.Form the rice into 8 rabbit heads using both pink and white then pick rice. Leave some rice for making rabbit ears as well.
6.Stuff the pink and white rice into the fried bean curd pouch and attach the ears.
7.Cut the seaweed and decorate the face. Decorate it with carrots and cucumbers as well.
Ʊ Cooking Tips And Points Ʊ
-By using the white soup, the taste enhances.
-When heating up the carrot in a microwave, using a little bit of water make the carrot tender.
・Not using vinegar rice make It easier for children to eat. You can use vinegar rice, if you prefer.
Ʊ Basic ingredients that is recommended to display in this recipe Ʊ
soy
※When it comes to the cause of food allergy and what can be consumed varies depending on each person. Carefully check the basic ingredients of seasonings, processed foods and choose the one that suits you.
ƱʊƱʊƱʊƱʊƱʊƱʊƱʊƱʊƱʊƱʊƱʊƱʊƱʊƱʊ