7major allergen free / Bear Hamburger Stake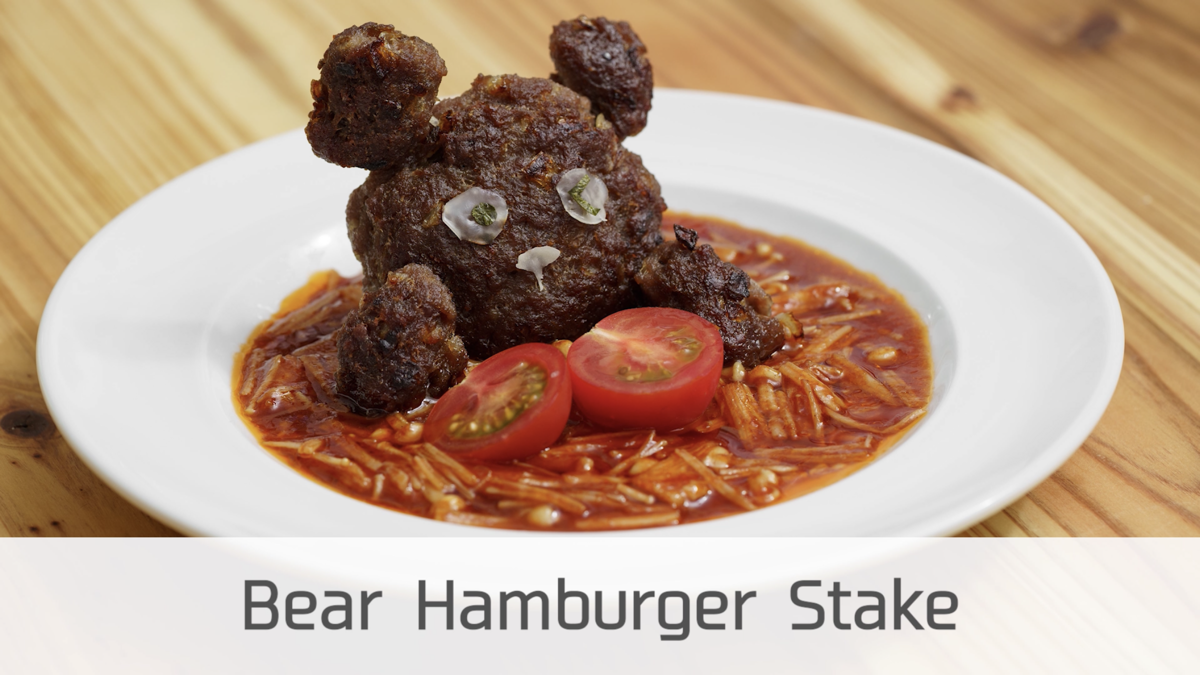 This recipe is provided by NODA MAMI / Food allergies cooking expert
When it comes to the cause of food allergy and what can be consumed varies depending on each person. Carefully check the basic ingredients of seasonings, processed foods and choose the one that suits you.
Ʊ Ingredients For One Person Ʊ
Ground Beef And Pork ・ ・ ・ 50g
Onion … 1/8
Potato Starch ・ ・ ・ 1 tbsp
Natural Salt … Two Pinch
※Sauce
Ketchup Sauce Edible From 1 Year Old (Otafuku) … 1 tbsp
Japanese Blend Brown Sauce (Ikari) … 1 tbsp
Water … 30cc
Mushrooms Such As Enoki ・ ・ ・ Appropriate Amount As Needed
Cherry Tomato … 1
※ The Face Of The Bear
Rice Flour Peel・・・・Appropriate Amount As Needed
Grilled Seaweed … A Little
Rice Noodles … 1 to 2

Ʊ How To Make Ʊ
1. Mince the onions and then fry them in a skillet until the color turns into clear to amber.
2. Put the ground meat,1 potato, starch, and salt in a bowl and mix well.
3. Make the shape of the bear's face, ears (2 pieces) and hands (2 pieces) and cook them in a skillet over medium heat. After one side is cooked, turn the meat over and cook the other side.
4. Shallow fry the rice noodles. (They are used as the part of bear's face)
5. Put Enoki mushrooms in a skillet and stir fry it. After they are cooked, add ketchup, water and sauce and bring them to a boil.
6. Pour the sauce on a plate and place a bear's face on the plate upright. Cut the rice flour peel and dip it into the hot water fast. Cut the bear's black eyes and beards with grilled seaweed.
7. After putting the face, hands and the tomato cut into half on, you're done.
Ʊ Cooking Tips & Point Ʊ
-Making the bear's face in barrel shape and attaching the ears in the last, make it easier for the face to sand well on the plate.
・ We enhance the taste by putting mushrooms in the sauce.

Ʊ Basic ingredients that is recommended to display in this recipe Ʊ
Beef / Pork

ƱʊƱʊƱʊƱʊƱʊƱʊƱʊƱʊƱʊƱʊƱʊƱʊƱʊƱʊ