7major allergen free / Sushi Cake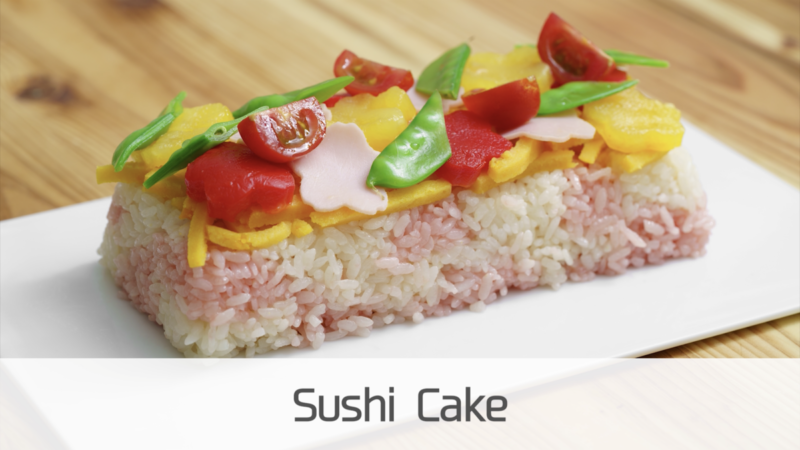 This recipe is provided by NODA MAMI / Food allergies cooking expert
When it comes to the cause of food allergy and what can be consumed varies depending on each person. Carefully check the basic ingredients of seasonings, processed foods and choose the one that suits you.
Ʊ Ingredients (That Fit In One Pound Cake Pan 15cm) Ʊ
※ Sushi Rice
Rice … A Cup Measuring About 225 grams
● Sushi Vinegar: Pure Rice Vinegar ・ ・ ・ 2 tbsp
Light Brown Sugar -2 tbsp
Natural Salt … 1 tsp
Juice From Water Boiled Beet Can · · · A Little
※ Thin Omelet Style
Pumpkin-20g
★ Rice Flour · 10g
★ Cornmeal · · · 10g
★ Brown Sugar … 1 tsp
★ Pure Soy Milk … 40 cc
★Rice Oil ・ ・ ・ 1/2 tsp
Everybody's Dining Table Processed Ham (Nippon Ham) … 2 Pieces
Cherry Tomato … Appropriate Amount As Needed
Snow Pea ・・Appropriate Amount As Needed
Red And Orange Pepper) … 1/2 Each
No Wheat And Soybean Four Grain White Soup (Ninben) … 2 tbsp

Ʊ How To Make Ʊ
1. Bake the peppers in either toaster or grill until the surface turn into brown. Then, put them in water and peel the skin.
2. Divide 1 into different colors. Mix the white soup with the red pepper and the orange pepper sepa-rately. Then let them sit for about 30 minutes.
3. Make thin omelet style sheet. As for the Pumpkin, steam it and then peel the skin. Next, mash the pumpkin. Mix all the ingredients of ★ in the bowl with the freshly mashed pumpkin. Spread a thin layer of oil and the batter thinly over the skillet. Then fry the dough over low heat. When the surface is dry, turn off the fire and cut them into strips.
4. Heat the mixed ● sushi vinegar in a 700 watt microwave for 30 seconds to remove the sour taste of the vinegar. Then sprinkle it over the warm rice.
5. Divide 4 into halves, and then add the beet juice to the half of the rice little by little until it becomes pink.
6. Fill the pound cake pan with rice applying Japanese check pattern and press firmly from above.
7. Turn the pan upside down on the plate and take out the rice. Then decorate it with a thin omelette style sheet, cut into strips and boiled snow peas.
8. Cut out the pepper into the shape of flowers and decorate 7. You can also decorate it with ham and cherry tomatoes in a way that looks like flowers.
Ʊ Point Ʊ
-Before turning the pan upside down to take out the rice, it will be easier to remove the rice by putting bamboo chopsticks around the pan beforehand.
The color of Beet juice fades when it is heated to a high temperature. So in order to add beautiful color to the rice, apply the juice to rice last.
Ʊ Basic ingredients that is recommended to display in this recipe Ʊ
Soy