Very Popular ♡ Chocolate Pudding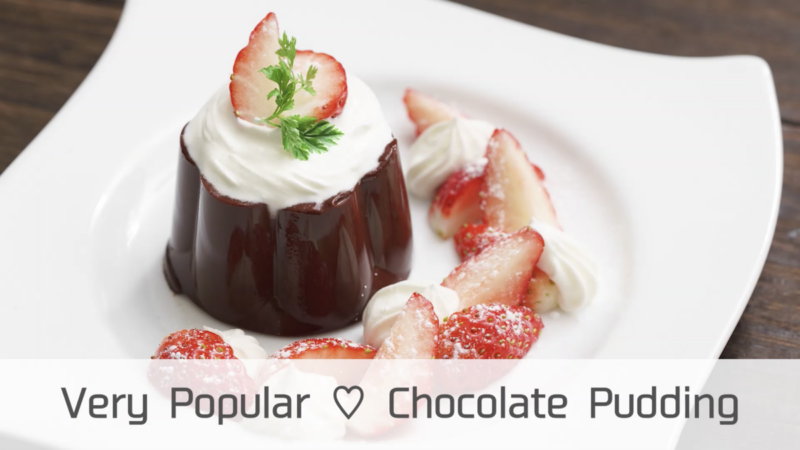 When it comes to the cause of food allergy and what can be consumed varies depending on each person. Please carefully check the basic ingredients of seasonings, processed food and choose the one that suits you.
<Ingredients for two pieces>
Plain Soy Milk • • • 150 cc
Water • • • 50 cc
Cane Sugar • • • 2 Tablespoons
Pure Cocoa Powder・・・」v
Agar Powder • • • 1 g
★ Chocolate Sauce
Pure Cocoa Powder … 2 Teaspoons
Rice Flour • • • 2 g
Water • • • 50 cc
<How to make>
Put ★ in a small pan and stir it thoroughly on medium heat until it thickens. After it thickens, stop the heat and then pour the sauce into a container.
In a different pan, put water, agar powder, and cane sugar and bring them to a boil while stirring. After it's boiled, turn the heat down to low, keep stirring it for about a minute until it gets thick. After that, turn off the heat
add soy milk, pure cocoa powder to 1 and mix well.
4. While stirring, warm it up to the point where it almost boiled on medium heat. Turn off the heat after it gets warm and pour into 1 container.
5. Put it in the refrigerator. Once solidified, it's finished.
<Point>
• When adding cocoa powder, add little by little and mix to avoid coagulation.
The ・Chocolate sauce can be substituted with commercially available milk-free ones.
• If you use the containers especially for this famous pudding from100 yen shop, your hand made pudding will almost look the same as the one that is commercially sold.
• You can use soy milk whipped cream to make it more delicious.
Children love pudding. Even you don't use egg and dairy products, you can easily make this pudding. The chocolate flavor can also satisfy grown-ups. It does not melt even at room temperature, it will be perfect for a Valentine gift.
<Basic ingredients that are recommended to display in this recipe>
Soy