Like to drink warm soup?
Have you ever wanted to drink warm soup in cold weather when you go out or during lunch break?
We recommend [Soup Stock Tokyo] for you in cold weather!!
You can often find stores at stations and business centers that will provide you with a delicious soup!
Allergy ingredients are displayed in front of the stores, so you can check it before entering the shop!
Have you ever had an experience where you don't know what to do after entering a store? You might have felt like "I don't know what to eat because there is no list of ingredients on the package" or  "I cannot eat this because of the ingredients indicated on the package. "
However, what makes Soup Stock different from any other stores is that they display allergy information in front of the stores. Therefore, allergy information can be checked before entering.
Therefore, you can order the product you want smoothly and enjoy it peacefully,  making the stores an attractive option.
※Regarding producing line and other allergy information, please ask the staff directly.
I tried okayu (rice porridge) with basil and tomato.
Today I ordered [Basil and tomato OKAYU] with lunch box!
This item only uses [chicken] that is among specified 27 ingredients.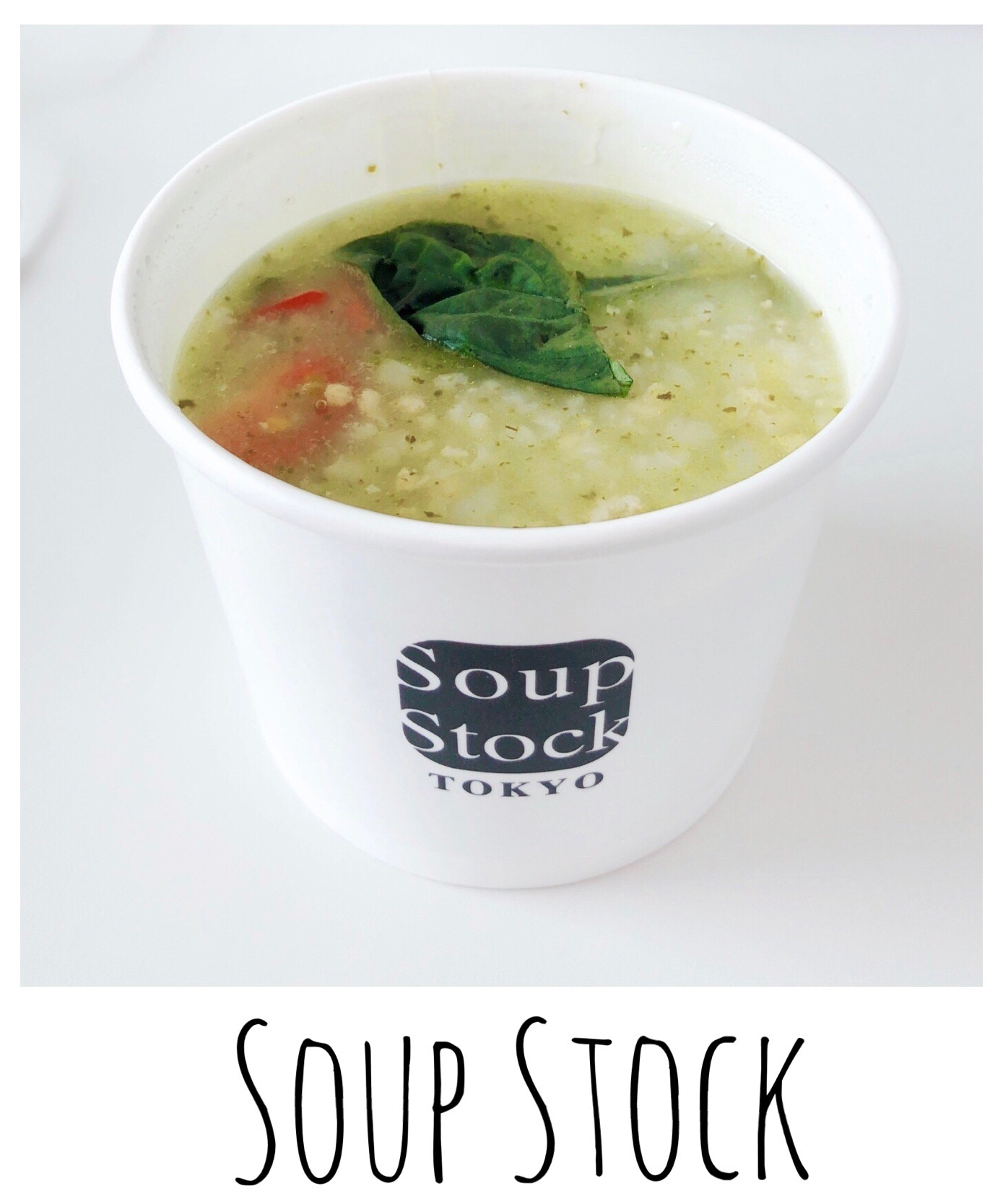 Even though I am allergic to wheat, I can enjoy safely!
In addition to soup, they also sell curry and porridge. Though it took me time to decide what I want, I tried OKAYU because it's rare.
Basil and tomato were very delicious with a little western style taste.
They serve hot soup from the pan, therefore, my body was warmed up!
Although the soups and miso soups sold at convenience stores are very convenient,  most of them cannot be consumed. Therefore, I'm really grateful to have a variety of soups from the Soup Stock so I can enjoy them at work or outside.
You can find the closest store and items on their home page.
You can check the weekly menu and locate nearby stores on your smartphone when you go out. That is one of the reasons why we recommend Soup Stock.
In addition, there are different items in different shops. Every week the [Weekly menu] changes. Even if you have an allergy, you can check their regularly updated information in advance and decide which store meets your needs.
Their menu is robust in variation to the point you don't get tired of it.
There is a lot of seasonal soup and curry. Whenever you go you will enjoy the meal.
In addition, they sell the packaged soup for you to take home.  That makes them, an even more, convenient option as well.
This is the season when the weather gets colder and colder.
I recommend delicious [Soup Stock Tokyo] where you can easily check the allergy information!