Finding a place to eat is the most concerning thing when you have an allergy.
Since I'm allergic to wheat, It is difficult for me to find a place where I can always eat.
For anyone who has wheat allergy, I would like to recommend a cafe offering a gluten-free menu in Yokohama Naka Ward. (All products are not gluten-free)
Ω‐CAFE

It is a comfortable space with a very stylish appearance.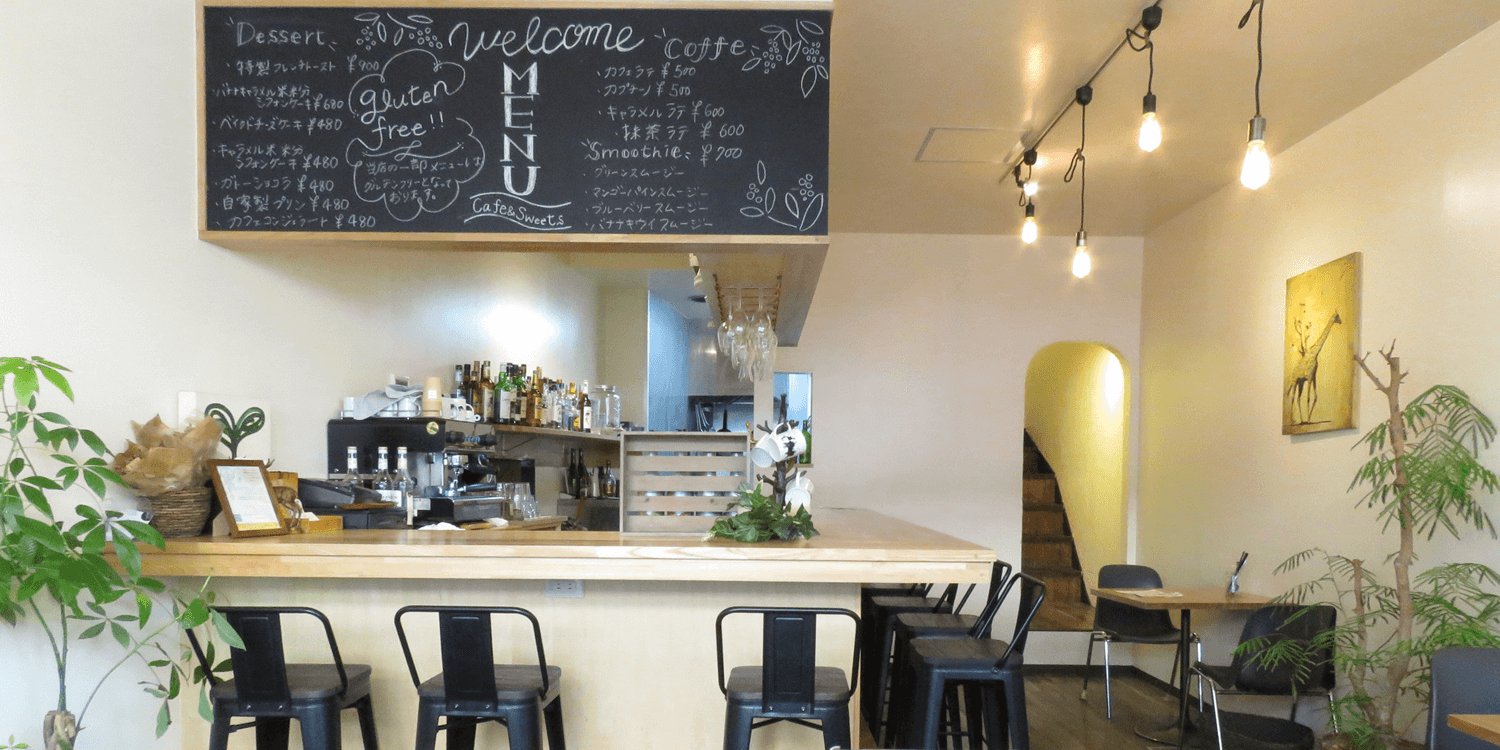 The inside of the store is bright and spacious.
The meal I had this time is below.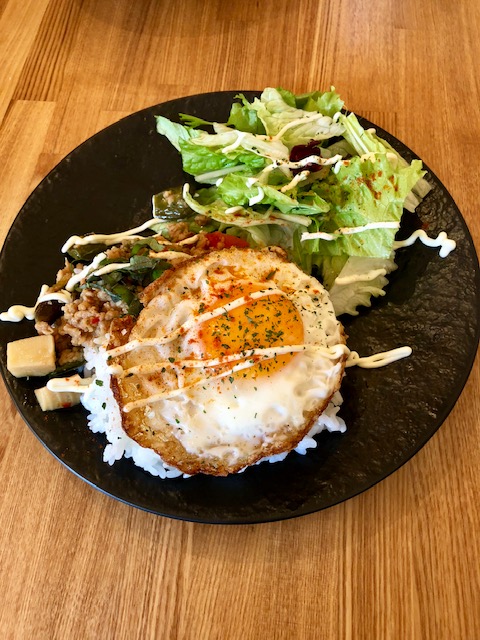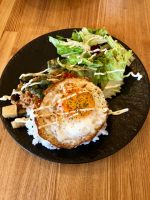 "Chicken And Seven Vegetables Gapao"
Chicken and vegetables are always filling and delicious.
I was under the impression that gluten-free meals are not normally filling or come with a lot of salad. However it wasn't the case for the Gapao I had. The amount of ingredients used such as rice, meat, eggs, vegetables are all well balanced, and satisfying.
Also the desert was so delicious. It was hard to believe it was a gluten-free cake.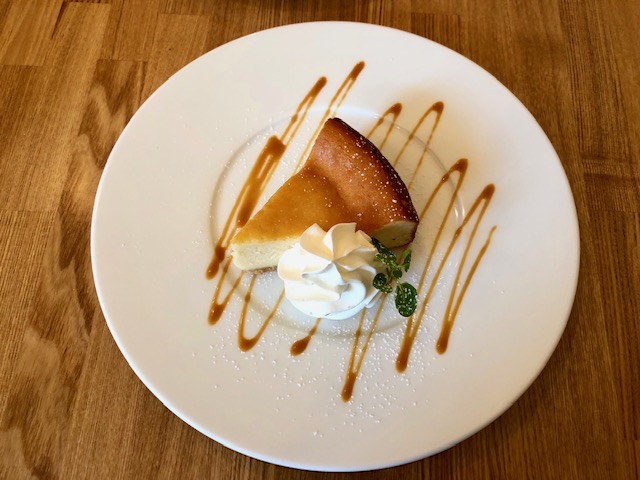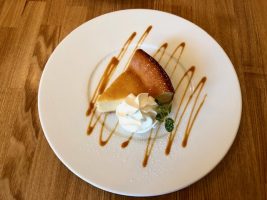 "Baked Cheese Cake"
After I develop wheat allergy, I thought I could never eat cake again.
Thanks to Ω-CAFE they have a gluten-free cake, and I cannot forget the delicious taste of the cake being I hadn't had it for sometime.
The cookie dough under the cheese was made of rice, flour and tapioca powder. It was crispy and I totally enjoyed the texture as well.
Also  the combination of rice flour and cheese achieved the perfect level of sweetness and it was a very easy-to-eat cake.
Next, we will introduce Ocafe's speciality  Tomato Chicken Curry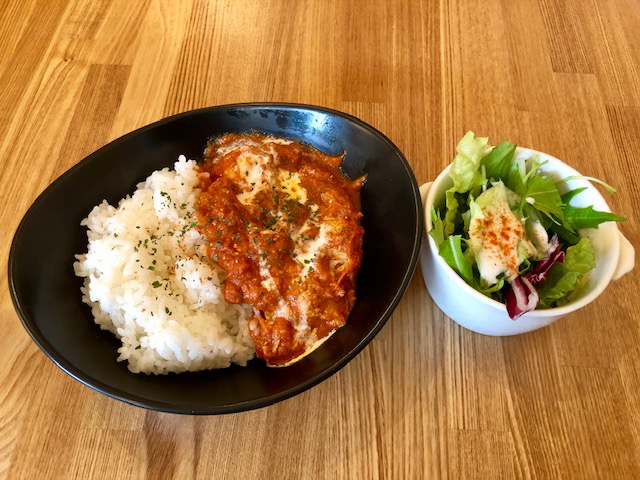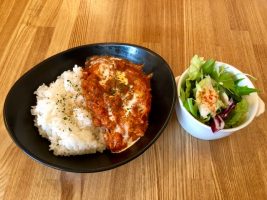 I ordered it because of it's surge in popularity.
Delicious curry was made with 6 secret spices, yoghurt, coconut milk, a large amount of tomato and bone chicken all simmered together.
A lot of tomato achieved the certain texture of melting like a butter without the use of wheat.
Well simmered bone chicken easily broke by touching it with a spoon.
First, you notice the mellowness of yoghurt and coconut milk spreading in your mouth. Additionally you would be surprised by hot flavor and delicious taste that kick in at within a few seconds.
The dish makes you warm from the core of the body. So it is ideal to eat when the weather is cold or you want to sweat a lot during summer.
Banana Caramel Rice Flour Sponge Cake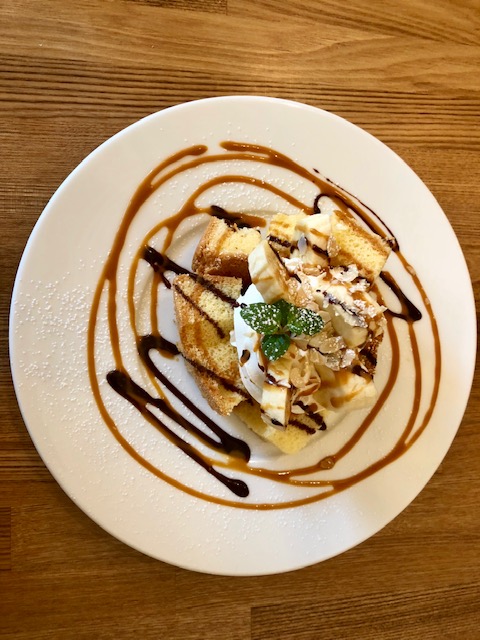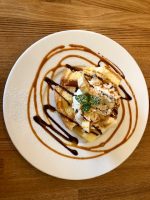 I was already full by the time my desert came to my table. However it was so light to the point where I could eat without feeling any stress.
Despite it's high volume appearance with banana fresh cream and caramel on top, fresh cream was so light and sponge cake was so soft and light.
With roasted caramel aroma, it was a blessing experience.
In addition, Ω – CAFE will start to offer new meals from January 2019. GF pizza, GF one  bite size cheesecake that you can take home, GF donuts (GF: abbreviation for gluten free)
Enjoy the rice flour pizza and sweets, all made by the owner whose parents are rice farmers.